About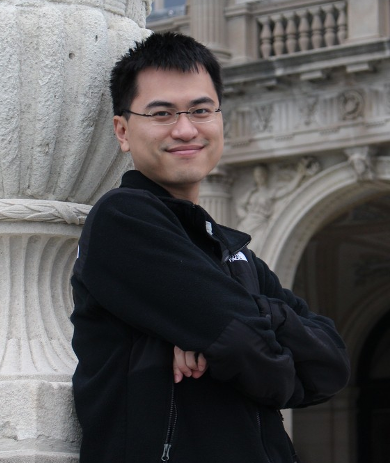 About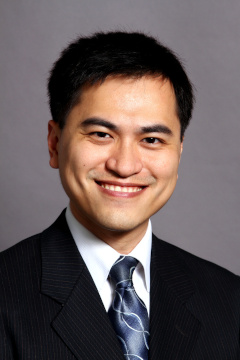 Po-Hao Chen (Howard Chen) is a musculoskeletal radiologist and the Associate Imaging Informatics Officer at the Cleveland Clinic Main Campus. He is also the director of the CC Imaging Data Science Center and chairs the Imaging Institute's AI Advisory Council. Dr. Chen received his MD and MBA from Harvard University in 2012. After finishing his diagnostic and nuclear radiology residency, he underwent fellowship training in clinical imaging informatics and musculoskeletal radiology, all at the Hospital of the University of Pennsylvania. He was a finalist in an innovation challenge sponsored by UPenn, and some of his prior projects were supported by Microsoft Research and some by the Microsoft BizSpark program. He has published in imaging informatics, machine learning, and radiology process improvement.
You can find his profile on Twitter, LinkedIn, Google+, or follow the blog Figure Stuff Out. He is also the creator of Radiology Data Quest, a data science blog focused on radiology. Howard enjoys imaging informatics, healthcare innovation, and good comfort food. The content of this website and his blog are of Howard's personal opinion and does not represent the view of the Cleveland Clinic.
Projects
ARIES - Web-Based Bayesian Analytics for Diagnostic Support
Plug-and-play Bayesian "artificial intelligence" for diagnostic support and education, with real-time update of differential diagnoses.
Various features presented at 2016 SPIE Medical Imaging and 2018 SPIE Medical Imaging conferences
Educational mode presented at 2016 RSNA annual conference
Contributed to Bayes net research leading to additional oral presentations at ASNR, ACR, and SIIM.
Supported in part by an RSNA Educational grant with open-source release. Not a commercial product
Capricorn - Radiology Residency Analytics Tool
Residents: Track cases automatically for ACGME and MQSA. Discover discrepancies. Review attending changes to preliminary report. Crowdsource teaching files. (website)
Program Director: Curate resident performance dashboards. Identify great calls. Recognize underperformers.
Decreased missed PE on CTA by trainees using data-driven integrated quality improvement initiative
2 peer-reviewed manuscripts on usability and on statistical analysis of attending variability.
RSNA oral presentations on analytics and approach to crowd-sourcing teaching files.
Winner of the 2014 Open Source Leadership Award at SIIM. Not a commercial product.
Centaur - Rapid-Fire Learning Module for Basic Imaging Findings
Radiology education tool. Single player "video game"-like mechanics. Rapid fire cases. Instant feedback. (website)
Trains perception of normal versus abnormal features.
2 oral presentations at the RSNA conference.
Peer-reviewed manuscript showing improved trainee ability to perceive abnormality after one 20-minute session.
RadCare - Resident-Led Radiology Consultation for General Medicine Wards
Created in-person consultation service for radiology residents to integrate with general medicine teams as part of normal radiology rotation.
43% of all consultations led to a change in immediate clinical management decisions.
Radiology residents were shown to be no less productive while on consultation compared to in reading room.
2017 AUR Research Scholars award for oral presentation.
Integrating natural language processing and machine learning algorithms to categorize oncologic response in radiology reports
Created 9400 manually curated reports using structured reporting system "Code Oncology."
Studied the effect of NLP techniques (filter-based feature selection, N-gram tokenization, stop-word removal, word stemming, and tokenization models such as TF-IDF) on classification accuracy.
Compared performance of multiple machine learning algorithms on predictive accuracy.
Peer-reviewed manuscript published.
Unsupervised genomic and epigenetic analysis
Developed new techniques for probabilistic modeling of epigenetic relationships between miRNA, mRNA, and DNA polymorphism using differences between patient samples to bypass need for a priori data annotation.
Predictions validated by biochemical bench analysis.
Technique utilized in manuscripts published Science, Cell, Molecular Cell, and BMC Genomics.
Select Publications
Duong MT, Rauschecker AM, Rudie JD, Chen P-H, Cook TS, Bryan RN, et al. Artificial intelligence for precision education in radiology. Br J Radiol. 2019 Jul 26;20190389.
Gillman J, Wu SE, Rowland J, Scanlon M, Chen P-H. Comparison of In-Person and Digital Radiology Resident Consultation Services. J Am Coll Radiol. 2019 Feb 4; S1546144018314856
Chen P-H, Scanlon MH. Teaching Radiology Trainees from the Perspective of a Millennial. Academic Radiology. 2018 Jun;25(6):794-800.
Chen P-H, Cross N. IoT in Radiology: Using Raspberry Pi to Automatically Log Telephone Calls in the Reading Room. Journal of Digital Imaging. 2018 Jun;31(3):371-8.
Deitte LA, Chen P-H, Scanlon MH, Heitkamp DE, Davis LP, Urban S, et al. Twenty-four-Seven In-house Faculty and Resident Education. Journal of the American College of Radiology. 2018 Jan;15(1):90a.
Chen P-H, Zafar H, Galperin-Aizenberg M, Cook T. Integrating Natural Language Processing and Machine Learning Algorithms to Categorize Oncologic Response in Radiology Reports. Journal of Digital Imaging. 2017 Oct 27 [epub ahead of print]
Chen P-H, Mankoff DA, Sebro RA. Clinical overview of the current state and future applications of positron emission tomography in bone and soft tissue sarcoma. Clinical and Translational Imaging. 2017 Aug;5(4):34358.
Chen P-H, Roth H, Galperin-Aizenberg M, Ruutiainen A, Gefter W, Cook TS. Improving abnormality detection on chest radiography using game-like reinforcement mechanics. Academic Radiology. 2017 Nov;24(11):142835.
Wildenberg JC, Chen P-H, Scanlon MH, Cook TS. Attending Radiologist Variability and Its Effect on Radiology Resident Discrepancy Rates. Academic Radiology. 2017 Jun;24(6):6949.
Chen P-H, Botzolakis E., Mohan S., Bryan R.N., Cook T. Feasibility of streamlining an interactive Bayesian-based diagnostic support tool designed for clinical practice. In: Zhang J, Cook TS, editors. Proc SPIE Medical Imaging. 2016. p. 97890C.
Chen P-H, Loehfelm TW, Kamer AP, Lemmon AB, Cook TS, Kohli MD. Toward Data-Driven Radiology Education - Early Experience Building Multi-Institutional Academic Trainee Interpretation Log Database (MATILDA). Journal of Digital Imaging. 2016 Mar.
Chen P-H, Chen YJ, Cook TS. Capricorn - A Web-Based Automatic Case Log and Volume Analytics for Diagnostic Radiology Residents. Academic Radiology. 2015 Oct;22(10):1242-51.
Traeger LL, Volkening JD, Moffett H, Gallant JR, Chen P-H, Novina CD, et al. Unique patterns of transcript and miRNA expression in the South American strong voltage electric eel (Electrophorus electricus). BMC Genomics. 2015;16:243.
Gallant J, Traeger L, Volkening J, Moffett H, Chen P-H, Novina C, et al. Genomic basis for the convergent evolution of electric organs. Science. 2014 Jun 27;344(6191):1522-5.
Chen P-H, Slanetz PJ. Incremental clinical value of ultrasound in men with mammographically confirmed gynecomastia. European Journal of Radiology. 2014 Jan;83(1):123-9.
Kung JW, Slanetz PJ, Chen P-H, Lee KS, Donohoe K, Eisenberg RL. Resident and Attending Physician Attitudes Regarding an Audience Response System. Journal of the American College of Radiology. 2012 Nov;9(11):828-31.
Chen P-H, Ghosh ET, Slanetz PJ, Eisenberg RL. Segmental breast calcifications. American Journal of Roentgenology. 2012 Nov;199(5):W532-542.